Giant Collection of All 213 Classic Movie Chapter Serials *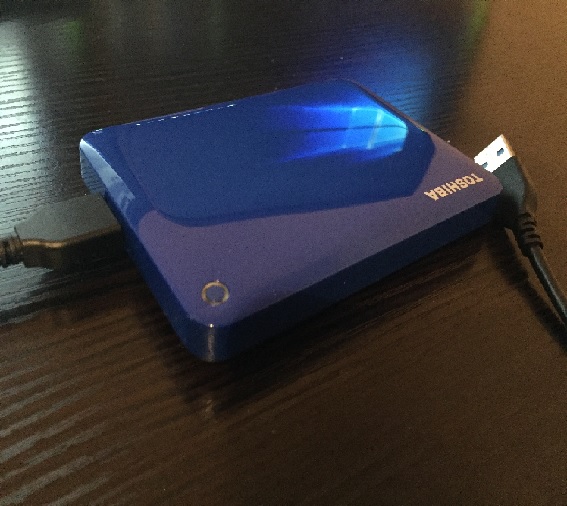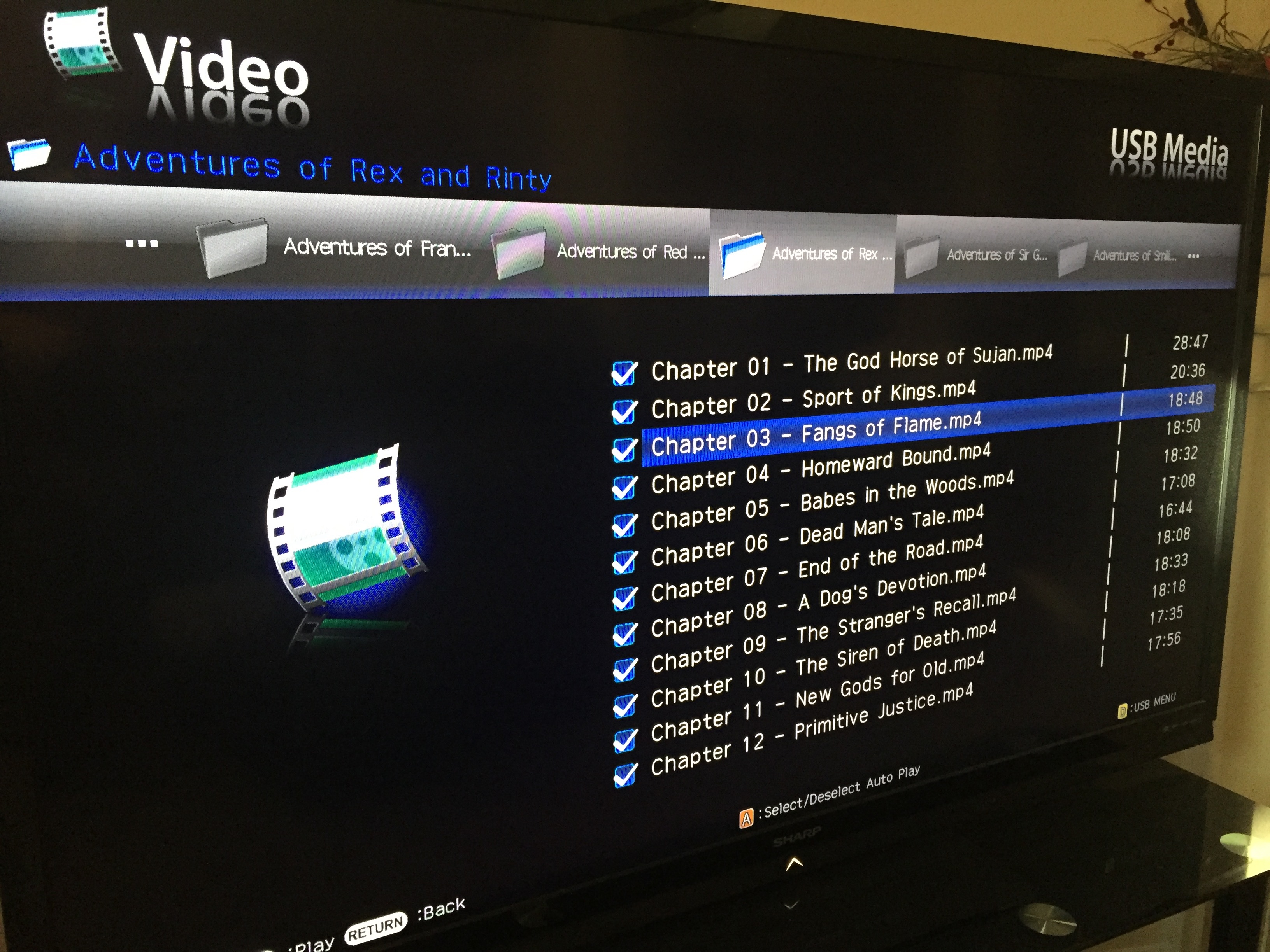 Here we have 213 Classic Movie Serials (List Below) with approximately 900 hours of viewing in a single package -- a brand new, 1 terabyte, USB-powered, external hard drive.
With this hard drive, you can play any of these classic serials on your computer (Windows 7 or newer) and many smart HDTVs that have USB ports.
If you purchased everything in this package separately from us here on eBay, it would cost over $1,100.
The retail value of the 1 TB (1,000 gigabytes) external hard drive is $99. We opened it and loaded the serials.

These classic movie serials are presented in the highest, DVD-quality, .MP4 video format. The drive itself is ultra thin, fits in your hand, and is USB-powered, so you only need to plug it into your computer or TV.
Each serial is separated into its own folder for organized, instant access to the each serial and individual chapter.

If you are NOT sure what this is and how it works, please ask questions as there are no refunds on this item.
This hard drive and the videos it contains have been tested on the following devices:
Sharp Aquos Quattron LC70LE732U (2011 model)
Samsung PN50C8000 (2010 model)
Xbox One (2013 model)
WD TV Live Plus (2010 model)
Assorted PCs running Windows 7 and Windows 10.
Though .MP4 video files will play using most, modern media players, the specific player we use on PC is VLC by VideoLAN, which can be downloaded for free at: http://www.videolan.org/vlc/index.html. If you have a newer computer or device running Windows 10, you can also search for VLC in the Windows Store for an easy download.
This Classic Serial Collection Packaging, Presentation, Artwork, Menu Images and All New Content © 2016 by A&A Media
Compiled from "Public Domain" Elements Originally created between 1/1/1930-12/31/1955 which Entered the "Public Domain" between 1/1/1979 -12/31/1979 or earlier.
Copying and reselling of the contents Strictly Forbidden and Prohibited. Micro Pixilation Watermarks have been added and recorded. Simply stated... You Cannot buy, copy and resell this Collection.

Serial List
Ace Drummond
Atom Man vs. Superman
Battling with Buffalo Bill
Batman & Robin
Black Arrow
Black Coin
Blackhawk
Black Widow
Blake of Scotland Yard
Blazing the Overland Trail
Brick Bradford
Bruce Gentry
Buck Rogers
Burn 'Em Up Barnes
Call of the Savage
Canadian Mounties VS Atomic Invaders
Captain Africa, Adventures of
Captain America
Captain Kidd, Great adventures of
Captain Marvel
Captain Midnight
Captain Video
Chick Carter
Clutching Hand
Cody of the Pony Express
Commando Cody Sky Marshal of the Universe
Commando Cody and the Radar Men from the Moon
Congo Bill
Crimson Ghost
Custer's Last Stand
Dangers of the Canadian Mounted
Dare Devils of the Red Circle
Darkest Africa
Daughter of Don Q
Deadwood Dick
Desert Hawk
Desperadoes of the West
Devil Horse
Dick Tracy
Dick Tracy's GMen
Dick Tracy vs. Crime Inc.,
Dick Tracy Returns
Don Daredevil Rides Again
Don Winslow of the Coast Guard
Don Winslow of the Navy
Drums of Fu Man Chu
Federal Agents vs. Underworld Inc.,
Federal Operator 99
Fighting Devil Dogs
Fighting with Kit Carson
Fighting Marines
Flash Gordon Conquers the Universe
Flash Gordon
Flash Fordon's Trip To Mars
Flaming Frontiers
Flying Cadets, The Adventures of
Flying Disc Men of Mars
Flying GMen
Frank & Jesse James, The Adventures of
Frank Merriwell
Galloping Ghost
Gangbuster
Ghost of Zorro
GMen vs. The Black Dragon
GMen Never Forget
Gordon of Ghost City
Government Agents vs. Phantom Legion
Great Alaskan Mystery
Green Archer
Green Hornet
Green Hornet Strikes Again
Gunfighters of the Northwest
Haunted Harbor
Heroes of the West
Hawk of the Wildness
Holt of Secret Service
Hop Harrigan
Hurricane Express
Indians are Coming
Invisible Monster
Iron Claw
Jack Armstrong
James Brothers of Missouri
Jesse James Rides Again
Jungle Drums of Africa
Jungle Girl
Jungle Jim
Jungle Menace
Jungle Queen
Jungle Raiders
Junior G Men
Junior GMan of the Air
King of the Carnival
King of the Texas Rangers
King of the Forest Rangers
King of the Congo
King of the Rocket Men
King of the Royal Mounted
King of the Wild
Last Frontier
Last of the Mohicans
Law of the Wild
Lightning Warrior
Lone Defender
Lone Ranger
Lone Ranger Rides Again
Lost City
Lost City of the Jungle
Lost Planet
Lost Special
Mandrake the Magician
Manhunt in the African Jungle
Manhunt on Mystery Island
Man with the Steel Whip
Masked Marvel
Master Key
Miracle Rider
Monster and the Ape
Mysterious Dr. Satan
Mysterious Island
Mysterious Mr. "M"
Mysterious Pilot
Mystery Mountain
Mystery of the River Boat
Mystery Squadron
Mystery Trooper
Oregon Trail
Overland Mail
Overland with Kit Carson
Painted Stallion
Panther Girl of the Kongo
Perils of the Royal Mounted
Perials of the Wilderness
Perils of Nyoka
Perils of Pauline
Phantom
Phantom of the Air
Phantom Creeps
Phantom Empire
Phantom Rider 1936
Phantom Rider 1946
Phantom of the West
Pirates of the High seas
Pirate Treasure
Purple Monster Strikes
Radar Patrol vs. Spy Sky
Radio Patrol
Raiders of Ghost City
Red Barry
Red Rider, The
Red Ryder, The Adventures of
Return of Chandu
Rex and Rinty
Riders of Death Valley
Riding with Buffalo Bill
Roar of the Iron Horse
Roaring West
Robinson Crusoe of Clipper Island
Royal Mounted Rides Again
Rustler's of Red Dog
Scarlet Horsemen
Scouts to the Rescue
Sea Hound
Sea Raiders
Secret Agent X - 1937
Secret Agent X - 1945
Secret Code
Secret of treasure Island
Shadow, The
Shadow of Chinatown
Shadow of the Eagle
Sir Galahad, The Adventures of
Sign of the Wolf
Sky Raiders
Smilin Jack, The Adventures of
Son of Geronimo
Son of the Guardsman
Son of Zorro
SOS Coast Guard
Spider Returns
Spider's Web
Spy Smasher
Tailspin Tommy
Tailspin Tommy Great Air Mystery
Tarzan, The New Adventures of
Tarzan the Tiger
Terry & Pirates
Tex Granger
Three Musketeers
Tiger Woman
Trader Tom of the China Seas
Tim Tyler's Luck
Undersea Kingdom
Vigilantes
Vigilantes are Coming
Valley of Vanishing Men
Vanishing Legion
Vanishing Shadow
Who's Guilty
Wild Bill Hickock
Whispering Shadow
White Eagle
Winner's of the West
Wild West Days
Wolf Dog
Young Eagles
Zombies of the Stratosphere
Zorro's Black Whip
Zorro's Fighting Legion
Zorro Rides Again
Plus 3 More…

* This is all the known Talking Serials that are Available