The "Way Out" Television Show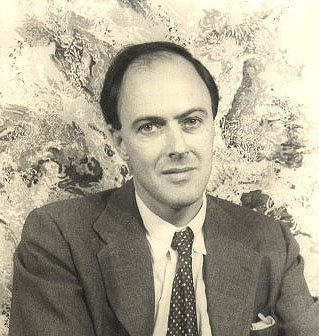 Roald Dahl
This DVD is a Rare Find.
Way Out is a 1961 fantasy and science fiction television anthology
series hosted by writer Roald Dahl. The macabre, black-and-white,
25-minute shows were introduced by Dahl, his face projected in a
disconcerting hall of mirrors effect, dryly delivering a brief introductory
monologue, expounding on such unusual subjects as undertakers or
frogs or murdering a romantic rival with ground tiger's whiskers.
The taped series began because CBS needed a replacement for a
Jackie Gleason talk show that network executives were about to
cancel, and producer David Susskind contacted Dahl to help mount
a show quickly. The series was paired by the network with the similar
The Twilight Zone for Friday evening broadcasts, running from March
through July 1961 at 9:30 p.m. Eastern time. The show's primary
sponsor was Liggett & Myers (L&M cigarettes). Writers included
Philip H. Reisman, Jr. and Sumner Locke Elliott.

The premiere episode, "William and Mary", adapted from a Roald
Dahl short story, told of a wife getting revenge on her husband.

10 Episodes of this Very Rare Show on 3 DVD's
Lots of Vintage Commercials

DVD 1
False Face
The Overnight Case
Hush-Hush

DVD 2
Side Show
20/20

DVD 3
William and Mary
Dissolve to Black
I Heard You Calling Me
Death Wish
The Croaker

---
Order these DVD's for Only $16.99
PayPal, Checks and Money Orders are accepted!
For Questions
Click Here
For Ordering Information Click Here
Pay us securely with any major credit card through PayPal!